HSwMS Vale is a former Swedish Navy fast missile attack craft. Vale was built by Westermoen at Mandal in Norway in 1978, and was powered by twin MTU diesels developing 7,200bhp giving a speed of 35 knots. Vale (P155) is a HUGIN Class Attack Craft (Missile). Armament: 6 penguin Mk 2 SSM, 1-57mm/70, 103mm RFL, 24 mines or 2 DC racks instead of missiles Complement: 18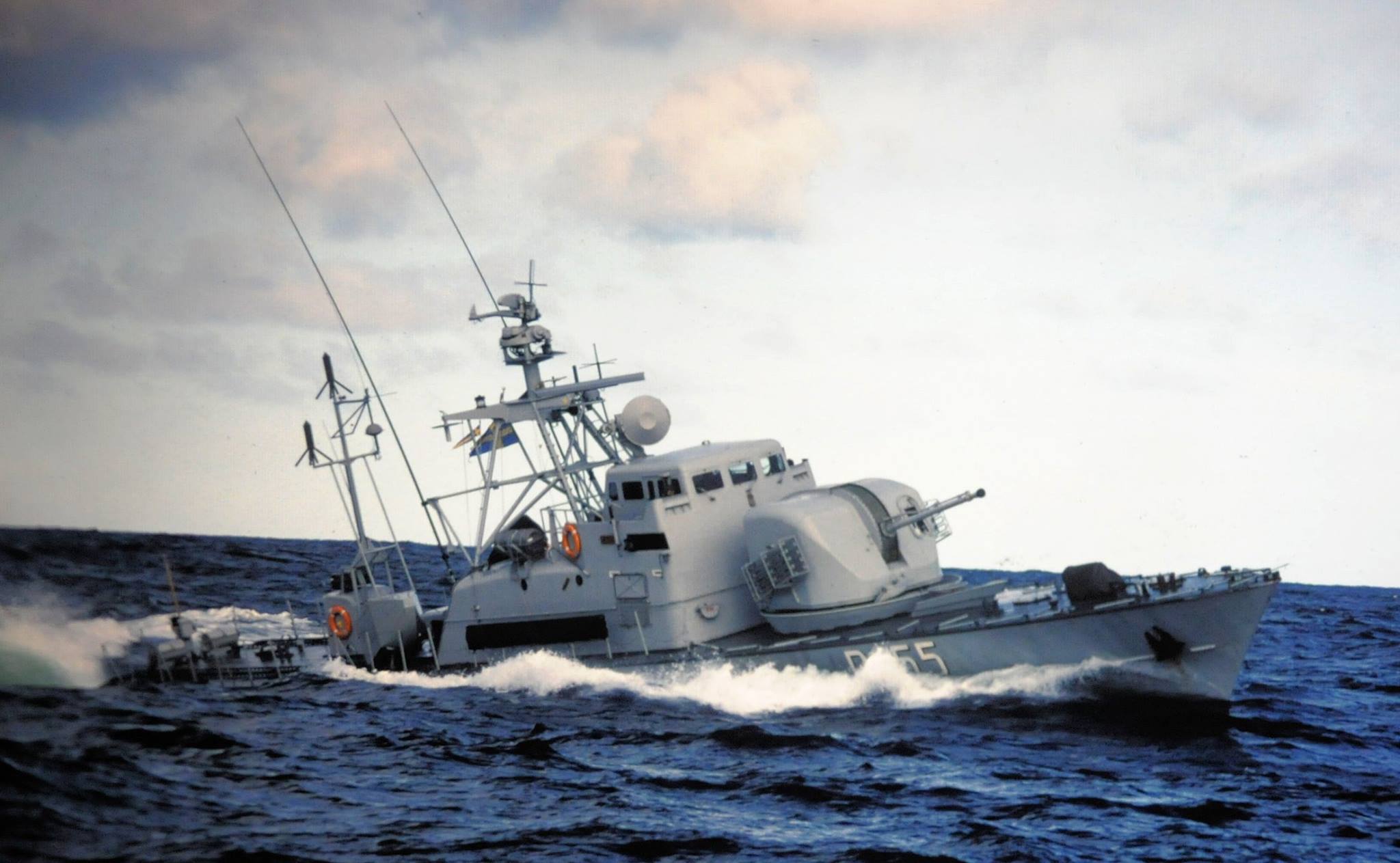 Decommissioned in 1995 she was sold on and in 2003 was renamed 'TS Lord Nelson' becoming the HQ for Norwich Sea Cadets for 15 years.
In 2018 Vale was decommissioned again and, as she was nearing the end of her useful life, was destined for the scrap yard.  Melton Boatyard heard of her plight and agreed to support a private rescue bid. This interesting cold war vessel arrived at Melton Boatyard on 16th July 2018, where her repair and rebuild work begun in earnest.
"We first opened our ward room café doors in September 2018, since then, we have been met with many challenges – including a year long Covid closure – but along the way we continue to be overwhelmed by your kindness and support."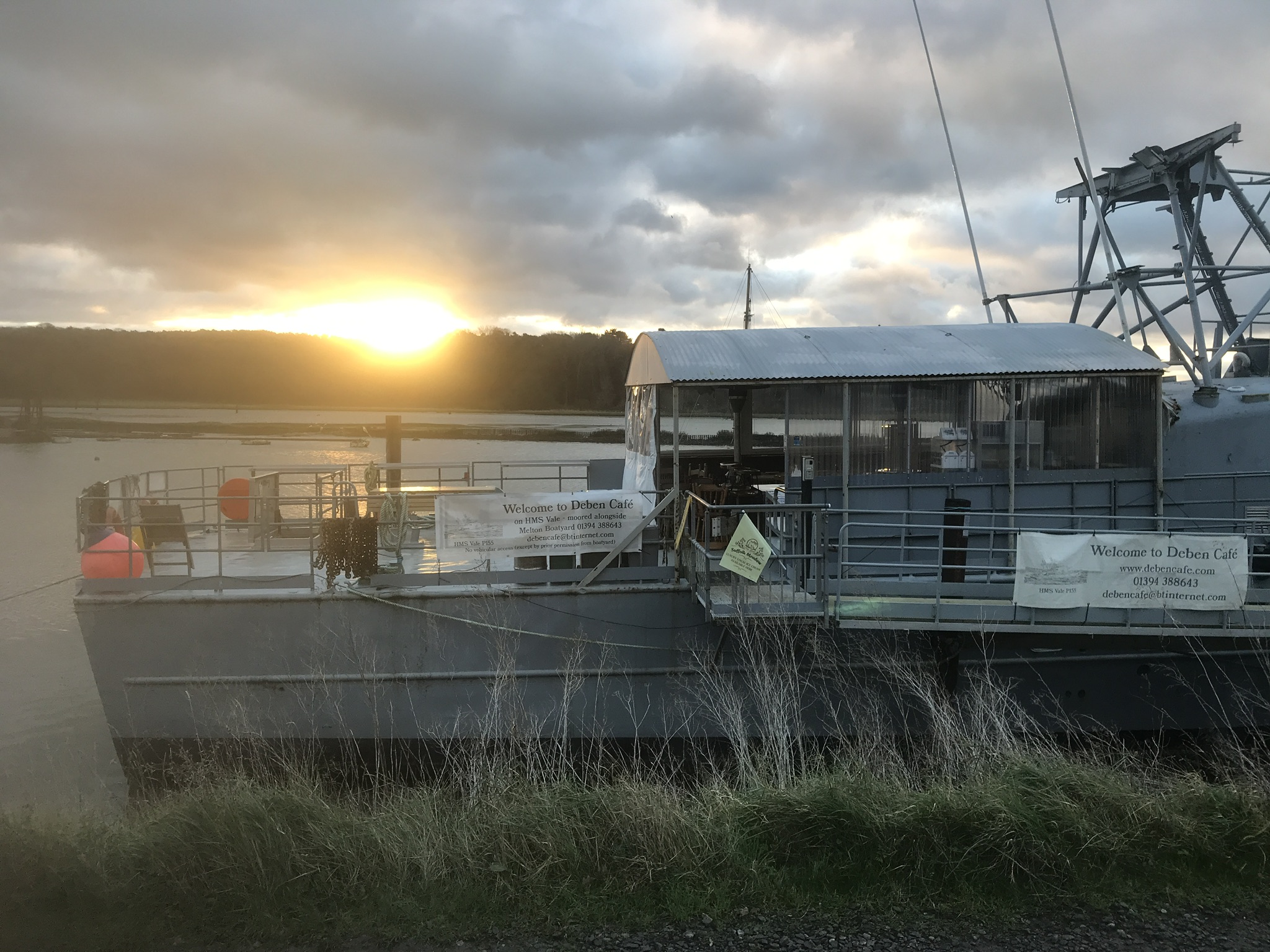 Melton Boatyard: home to HMS Vale,  is a traditional working boatyard with a reputation for offering a friendly welcome and straightforward boating advice.  Established back in 1981, Simon Skeet took over the running of the yard from his father Mel, who sadly passed away in 2015. Carefully maintaining his father's vision of providing a working boatyard where customers feel welcome and part of the Melton Boatyard family, Simon wanted his customers to be able to sit in the warm and dry with a hot coffee, a jolly good meal and to have a club house for evening gatherings and boatyard events; and so the search for a suitable provision began. Many ideas were put forward, but nothing seemed to fit with this unique boatyard setting.
Purchasing HMS Vale: The hunt for a suitable home for a boatyard club house and café bar remained until HMS Vale (known as TS Lord Nelson) became available.  "We were watching Anglia news and saw the plight of Norwich Sea Cadets, who were being forced out of their floating Headquarters. It was at this moment, we made a decision to visit the ship, with a firm view that this may be the perfect café/club house the boatyard had been searching for."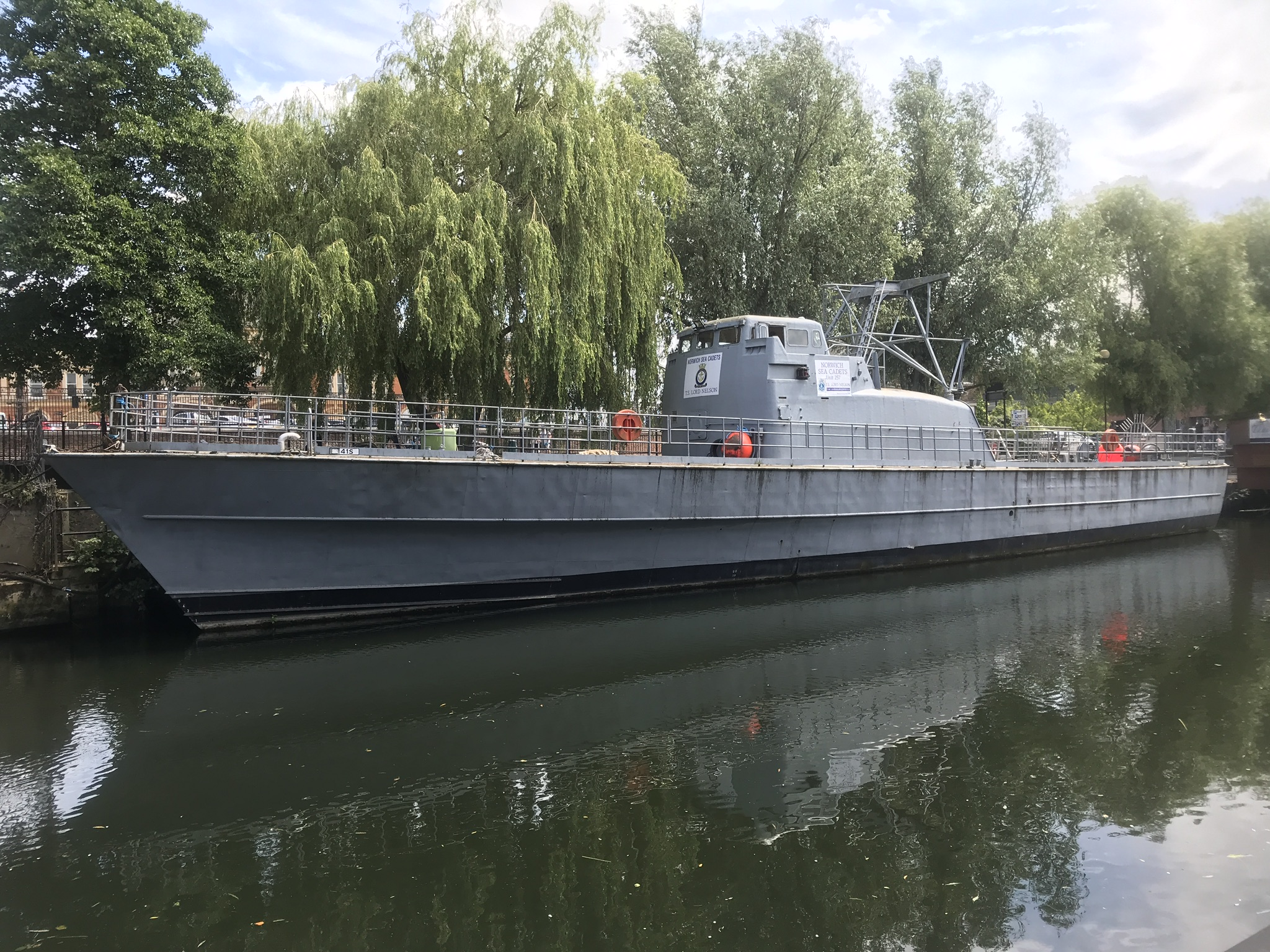 After many visits to HMS Vale, discussions about the practicality of owning such a huge vessel, and thoughts about where to moor her, we decided to move the idea on to the next step.
Deep discussions were had about taking on such a project.  The move itself would be a huge undertaking and she would need to be lifted for an out of water survey; and if we were successful in all of those things, a life time of ship maintenance would follow. Late night dreams and musings infused with common sense blockades led to exciting evenings and sleepless nights.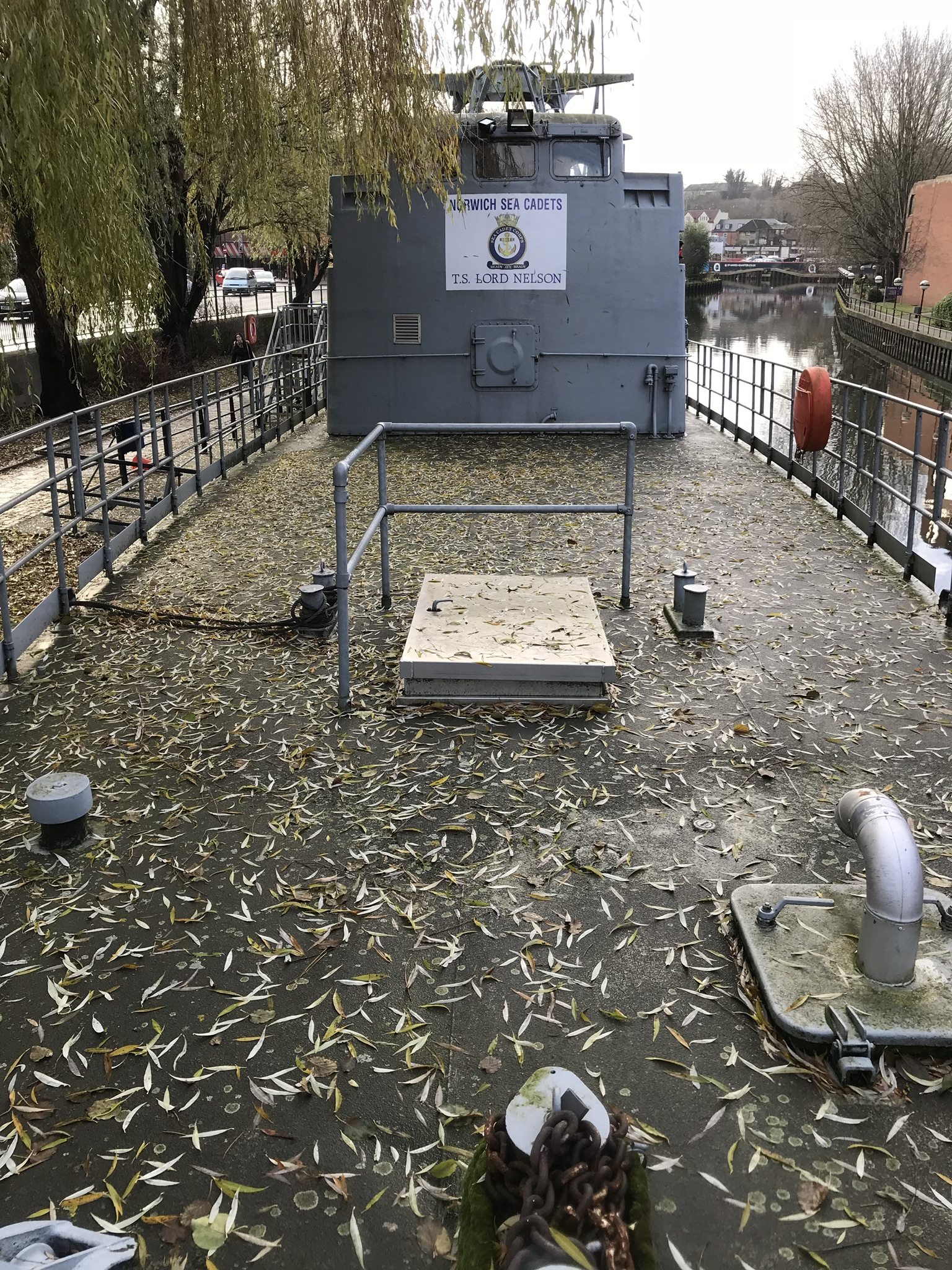 Finally, a  decision was made to purchase HMS Vale and a price agreed.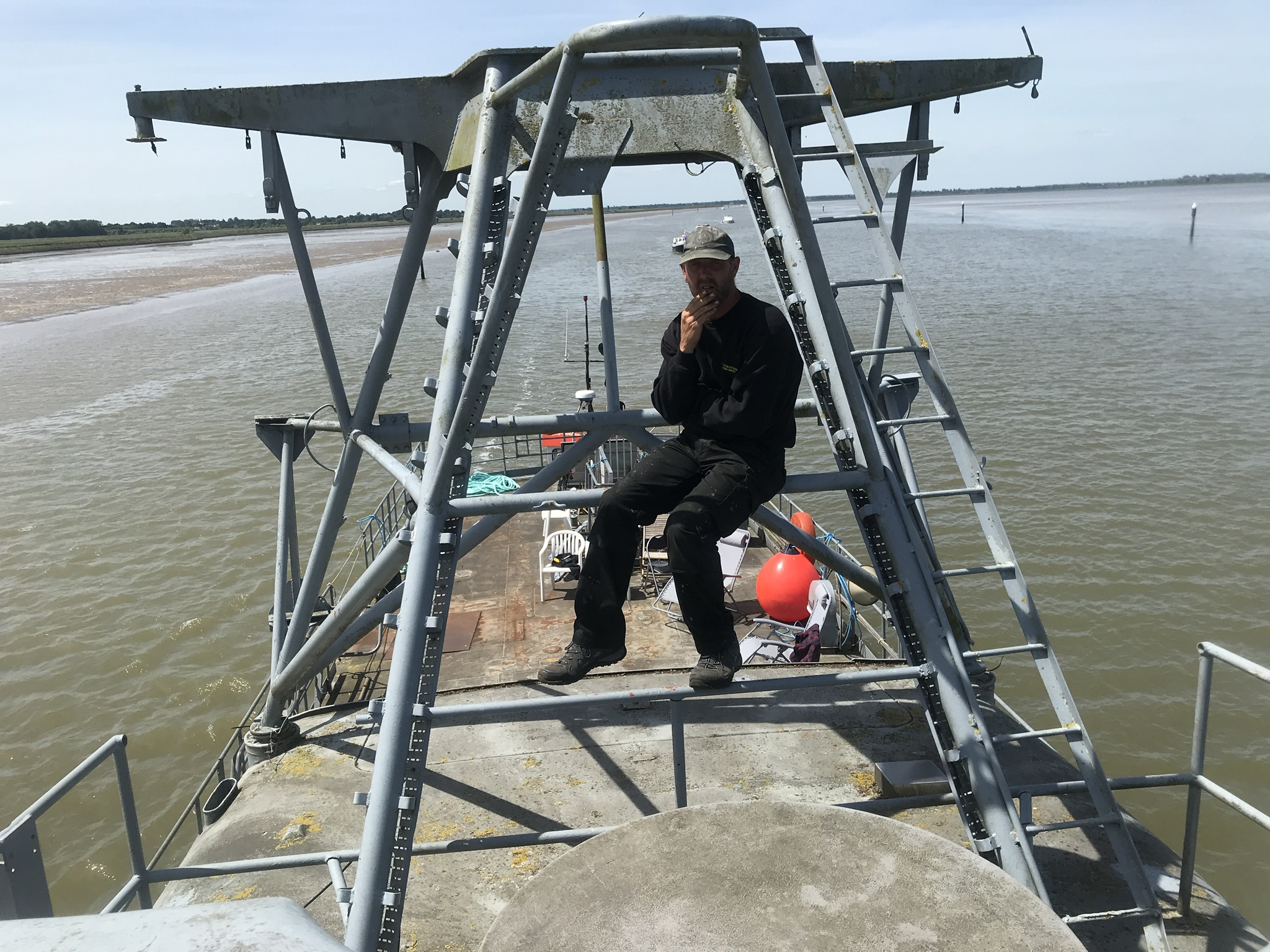 But…before business could be finalised there was the small matter of how to get a 120 ton ex-Swedish Missile Attack Craft out of the centre of Norwich, through the Norfolk Broads, out to sea at Yarmouth for a 41 mile journey along the coast to Felixstowe Ferry, over the notorious Deben Bar and up river to Melton Boatyard.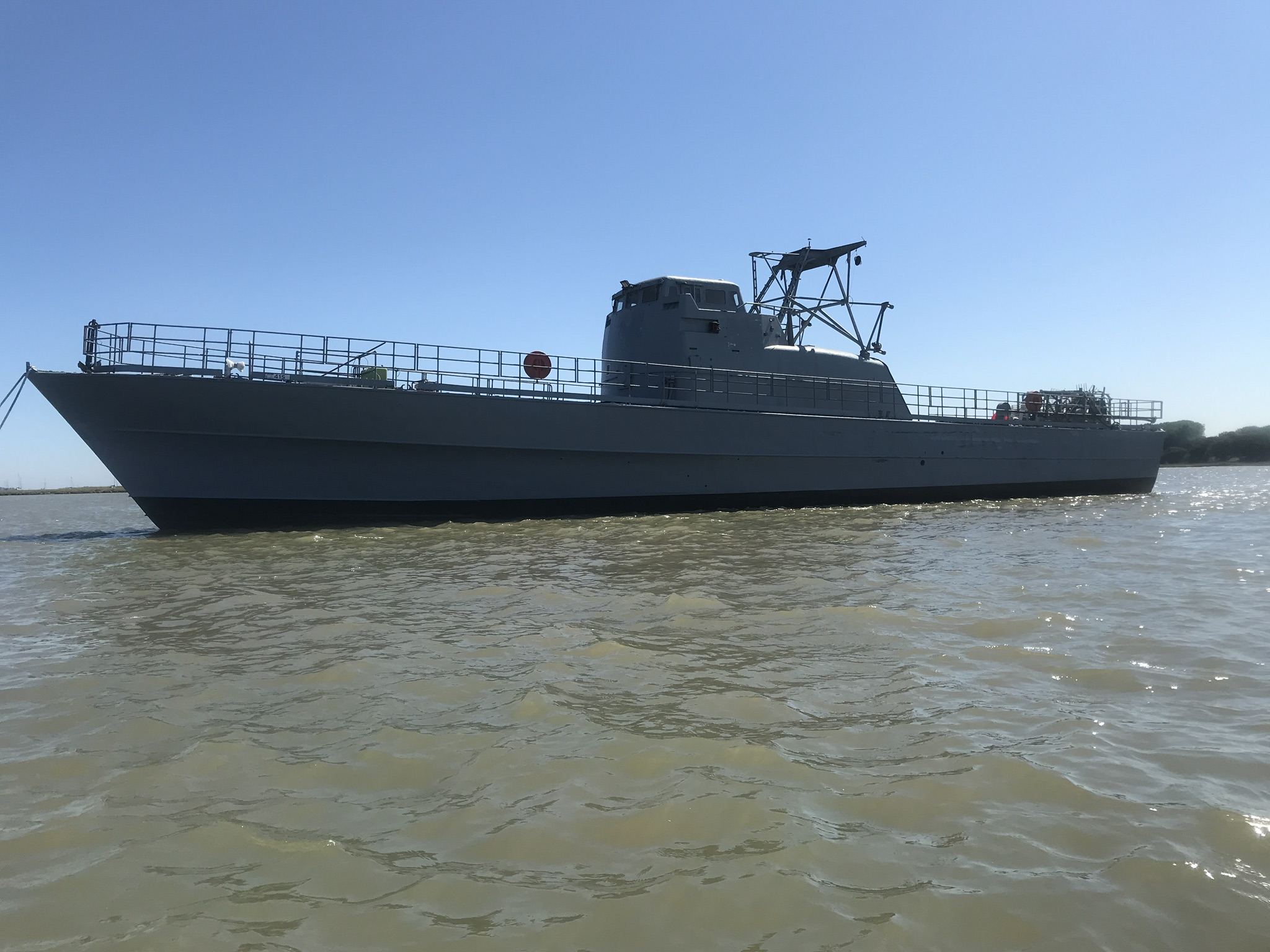 Moving such a vessel was going to be no easy feat, especially as she had no means of self-propulsion or steering. 

Her Journey Home:
Many companies shied away from this task and wouldn't even quote, but Tam and Ben Grundy thought, not only was it achievable, it was an exciting proposition and fully immersed themselves in the project".  After months of under water surveys, preparation and negotiation with the multitude of authorities responsible for the differing waterways, eight bridges, ports and the MCA, a move date was agreed and the purchase of HMS Vale finally complete.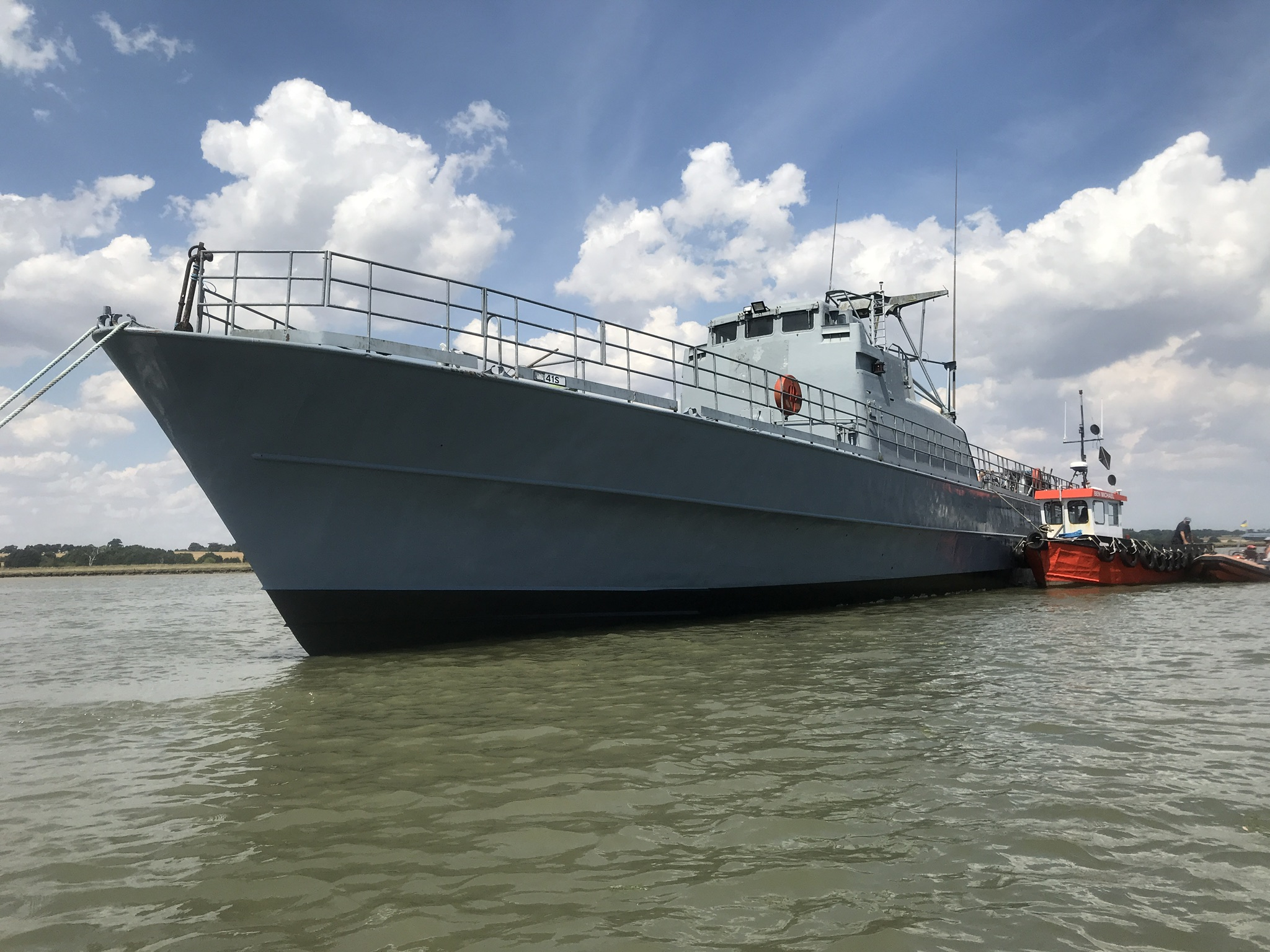 And so, "in the early hours of 24th June 2018, the Grundy's arrived in Norwich City Centre with their tugs 'Ben Michael' and 'Fury' to tow HMS Vale home; only to be immediately met with an eight-day delay waiting for the Haven Bridge to open – but that's a story in itself".  With the bridge finally opening, HMS Vale recommenced her journey.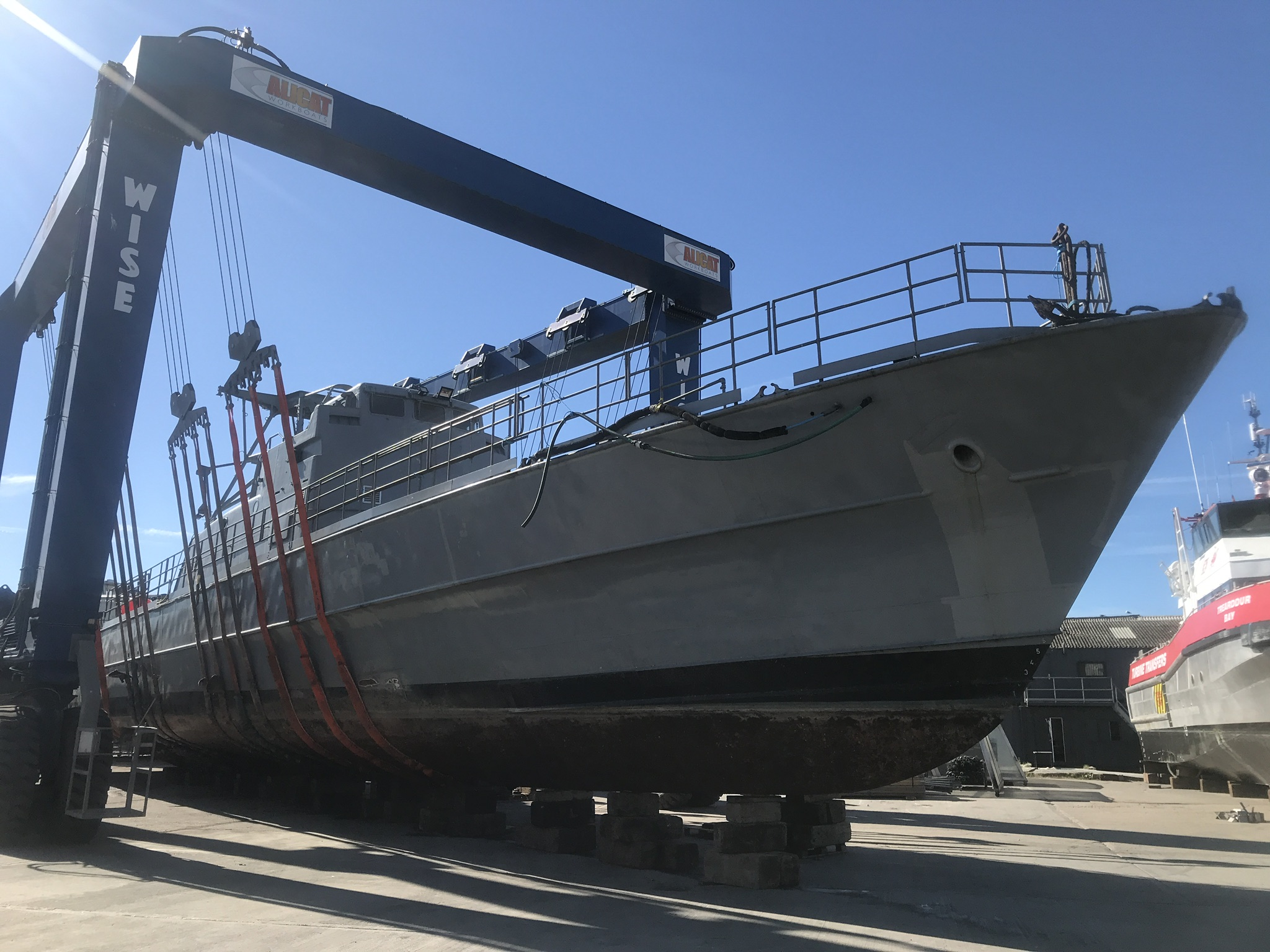 First she was lifted out in Yarmouth for inspection, repair and painting by Melton Boatyard.
Then on 11th July 2018, she was taken out to sea, along the coast to Felixstowe, where an 'at sea' transfer took place. "With the light beginning to fade and some challenging sea conditions, the Grundy's once again took over the tow and safely negotiated HMS Vale over Deben Bar and into the river.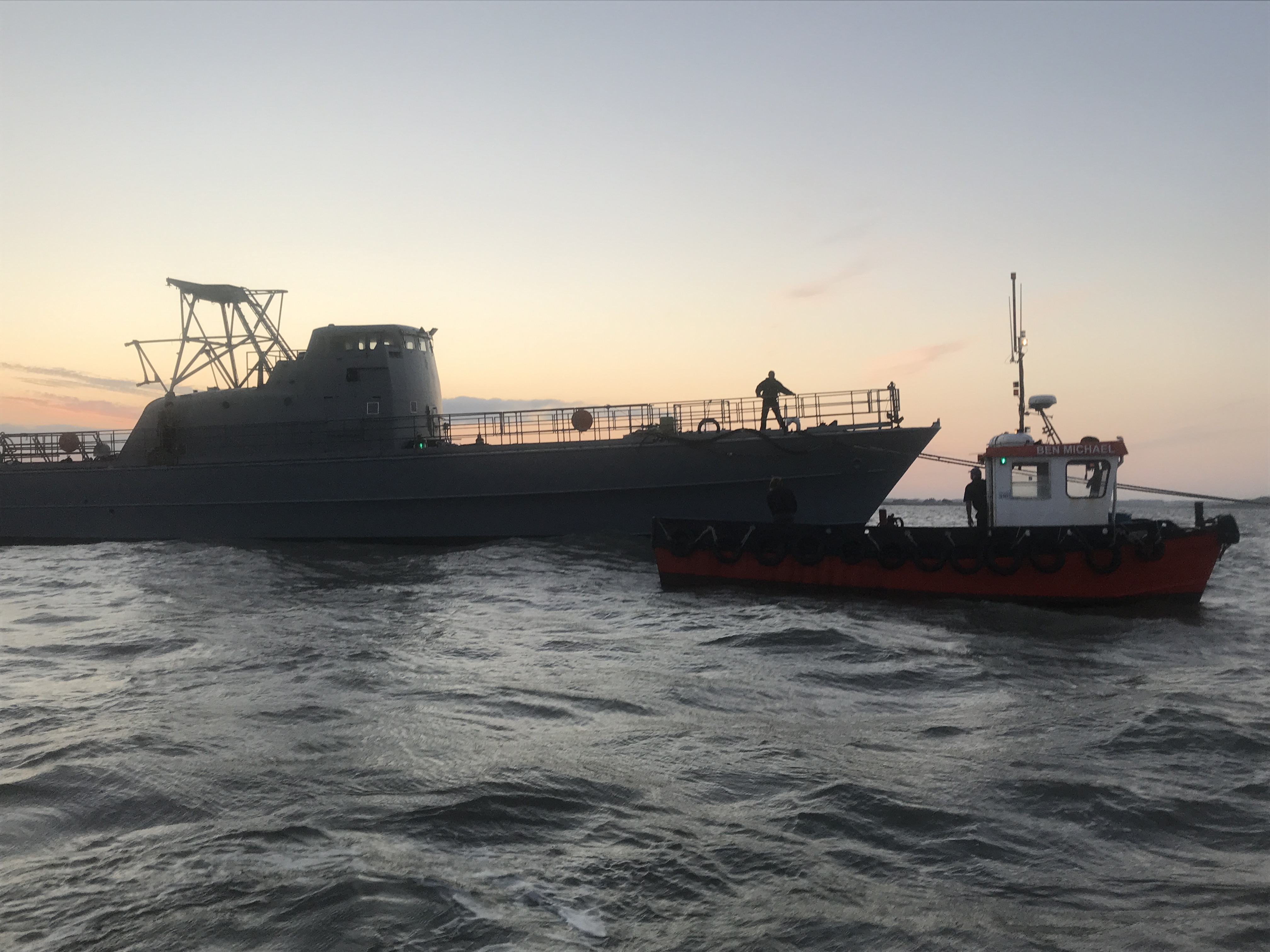 Stopping at The Rocks for a few days to wait for a spring tide, they picked her up once more, took her through the narrow and twisting Woodbridge fairway and pushed her into place at Melton Boatyard on16th July 2018 to the sound of triumphant boat horns and cheering crowds."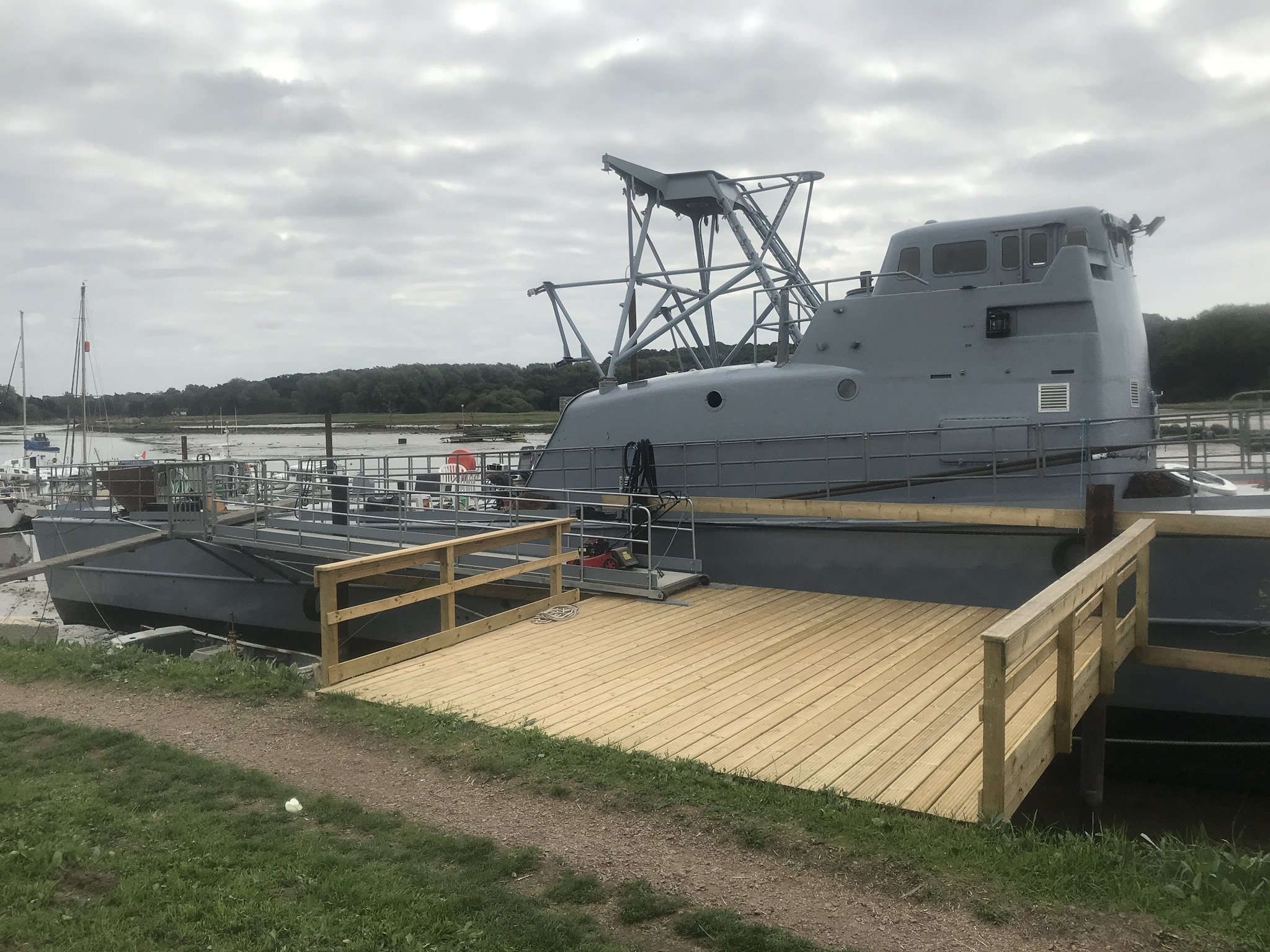 Her mooring had been prepared and, a new quay built, chains and ropes readied to secure her. 
That was when the real work began.
"We have learned more than we imagined we would need to learn, met with many more snags than we expected and spent more money than we knew we had, yet we continue to evolve."
"We listen to river men with years of wisdom, shipwrights with years of experience, take advice from local businesses and work within the budget limits of our own pockets."
Many unique ship related challenges face us daily but we are slowly and surely edging onwards and upwards; HMS Vale and Deben Café Bar is establishing herself as an icon on the river Deben, thanks to you, your acceptance, your understanding, kindness and loyal support.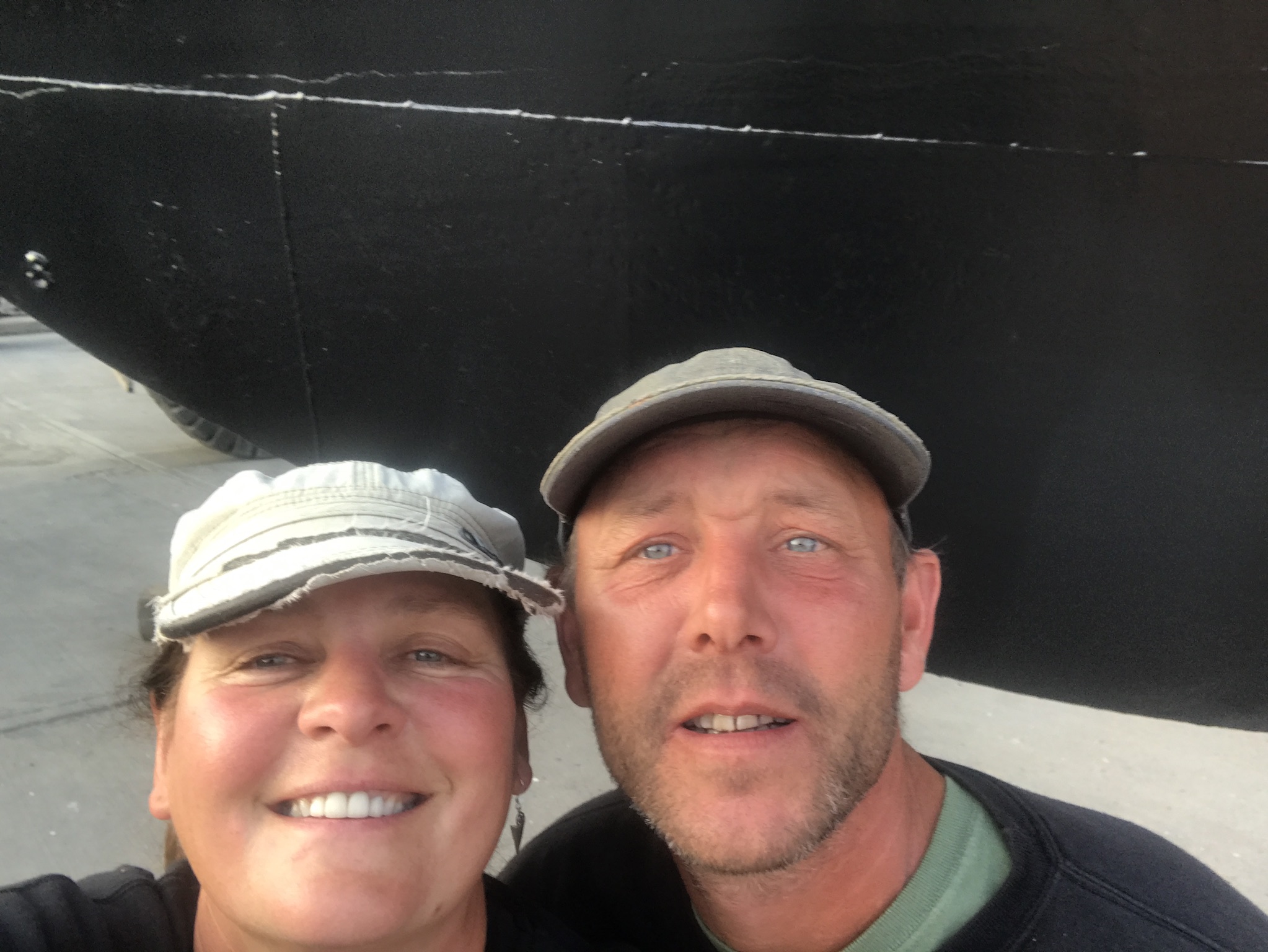 HMS Vale has her own Wikipedia page for those who wish to discover more about our ship.    https://sv-m-wikipedia-org.translate.goog/wiki/HMS_Vale_(P155)?_x_tr_sl=sv&_x_tr_tl=en&_x_tr_hl=en&_x_tr_pto=sc